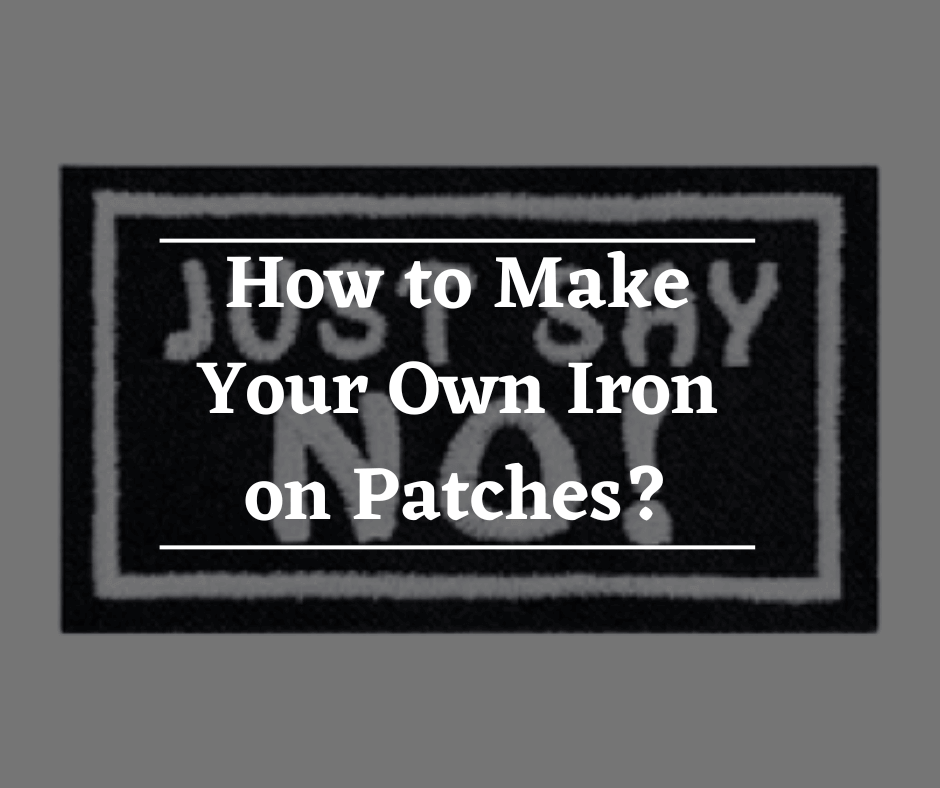 Do you love customizing your clothing and adding personal touches to apparel? If the answer is yes, then this blog post is for you! In this guide, we'll walk through an easy step-by-step process of how to make your iron on patches.
Creating your patches is a great way to express yourself and make unique clothing items. Here are three methods you can use to make your own patches.
Tools & Accessories Needed
Fabric for the patch
Iron on adhesive
Scissors
Iron
Optional:
Embroidery thread
Transfer paper
Fabric paint or Spray paint
Method 1: Using Iron On Adhesive
Designing the patch:
Using either a computer or your artwork, design the patch shape and any designs or words you want to include on paper. Transfer the design. Finally, cut out the patch shape with scissors.
Applying the patch:
Preheat it to the appropriate temperature setting for your material. Place it on the clothing item where you want it to be applied, the wrong side up. Put it on the adhesive sheet on top of it with the adhesive side down.
Place a thin cloth over it and press with the hot item for about 15-20 seconds. Allow it to cool, and then peel off the adhesive sheet.
Finishing touches:
Trim any excess piece from the edges o with scissors and then use an iron to press the patch again.
Optional:
Sew around the edges for added durability. It can also be embellished with embroidery thread, material, or spray paint.
Method 2: Heat Transfer Patches
Designing the patch:
Create the design using a computer program or draw the design on paper. Next, print the design onto transfer paper using an inkjet printer. Place the printed design face down onto the wrong side of the material. Then place a damp cloth on top and press with an iron for about 15-20 seconds.
Applying the patch:
Cut out by following along the printed outline. Peel off any white backing, then position it onto your item of clothing. Place a damp cloth on it and press with an iron for about 20 seconds.
Finishing touches:
You can stitch around its edges using an embroidery needle for a more permanent hold and extra protection. Or you can use paint or spray paint to customize it further.
Optional:
If you have access to an embroidery machine, you can use it to embroider it directly onto your item of clothing.
Method 3: Stenciled Patches
Designing the patch:
To create a stenciled piece, you'll first need to design the shape. Then, you can use a template or freehand draw the design. You can also use transfer paper to trace the design onto your fabric.
Cutting out the patch:
Once you have your design, use scissors to cut it out. Make sure to cut carefully along the edges of the template. If needed, you can use fabric adhesive to hold the edges together.
Ironing on the adhesive:
Next, you'll need to press the adhesive to the back. Again, make sure to read and follow the instructions on your adhesive packaging. Once the glue is attached, you can move on to the stenciling process.
Stenciling:
To create a pattern, use a fabric-safe stencil, fabric paint, and a stencil brush. Then, fill in the design as desired with fabric or spray paint for a unique design.
Custom Patches for all Your Branding Needs
As the best patch manufacturer, we are here to help you create custom pieces for all your branding needs. From small businesses to corporate companies, we have the know-how, tools, and expertise to ensure your products are produced with the highest quality. Contact us for a free consultation and quote on custom iron-on patches.
We look forward to helping you with your branding needs!
Frequently Asked Questions
How to make an iron on patch from a picture?
Transfer paper is the simplest way to make it from a picture. All you need to do is print out your desired image onto the transfer paper, cut it out, and then press it.
How to make an iron on patch with Cricut?
Cricut is a fantastic tool for quickly and easily creating custom pieces. To make your badge, start by uploading your image to the Cricut Design Space and size your image. Then, cut out the design from heat transfer vinyl (HTV) with your Cricut machine, weed out the excess HTV, and then press it to your desired material.
How to make an iron on applique patch?
To craft an applique one, start by cutting out the shape of your desired design from a piece of fabric. Then, use an iron-on adhesive to attach the fabric to your chosen piece of clothing. Finally, use an iron to heat set the glue and secure it in place.
How to make iron on patches stick?
In order to create DIY iron on patches stick, you will need to heat-set the adhesive by using an iron. To do so, place it onto your desired piece of clothing and lay a clean cloth over it. Next, turn the heat setting on your iron to high and press down for about 15-20 seconds. Finally, let it cool, and it should be securely attached to your clothing.
Conclusion
Making your own iron-on pieces is fun and a great way to add customized touches to your clothing. With the help of this post, you can now easily create your pieces with the three methods listed above. Creativity is a great way to express yourself and design unique clothing items. So what are you waiting for? Go ahead and get started on creating your iron-on patches today! Good luck, and happy crafting!