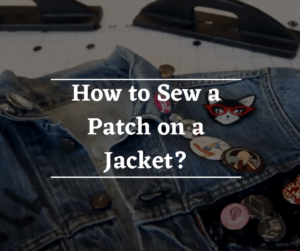 Have you ever seen a fashion trend of an old, worn-out denim jacket with patches adorning it? It looks like the perfect statement piece to add to any wardrobe. But one question you may have is: how do you make one yourself?
Have no fear! With just a few simple steps and supplies, anyone can learn how to sew a patch on a jacket and personalize it for their unique style. So read more details and start creating your own patched masterpiece!
How To Put A Patch On A Jacket?
Materials & Tools You'll Need
Fabric patches
Sewing needle and thread (or a sewing machine, if available)
Scissors
Chalk or fabric pen (optional)
Choose The Jacket And Prepare The Patch
Select The Right Size And Style
If you want it to be a standout piece, choose one that's larger and bold. But a smaller one will do the trick if you prefer something more subtle. Choose the outfit made of a sturdy fabric, like denim or canvas, so it can handle the weight.
Next, choose a fabric that matches the style and color. Many people search for how to sew patches onto denim. Consider selecting one with an interesting shape or pattern for extra design points. If you're feeling creative, why not make your fabric pieces? The size and shape should be slightly smaller than the space you're going to put it on.
Mark The Exact Spot
Place it to determine the best placement. Make sure it is centered and straight before pinning it into place. Once the placement is down, use a chalk or fabric pen to mark the exact spot. This will help you stay on track when you begin to sew. The markings will eventually come off with a damp cloth.
Sew The Patch Onto The Jacket
Thread the needle and knot the end of the thread. Begin the process, small stitches at a time. Starting at one edge, use a basic running stitch or a more decorative stitch.
Try to keep the stitches small and even, with each stitch about a quarter inch apart. Next, sew around the edges, keeping the stitches even and close together. This will help keep it secure and prevent it from unraveling.
Knot the thread and trim any excess when it is fully attached. It is now ready to adorn your apparel. However, if you'd like more security, use fabric glue to reinforce your stitches.
Finishing Touches
Press it with an iron to help it lay flat and look neat. To help make it more secure, apply a layer of fabric sealant (available at craft stores) over it. This will prevent it from fraying and will also make it weather-resistant. Add additional decorative elements, such as buttons or embroidery, if desired since you're the creative force behind this fashion masterpiece.
And that is how to sew on a patch! You can proudly show off your new outfit with these easy steps. So go ahead and make a statement with personalized fashion that's uniquely yours!
Frequently Asked Questions
How to sew a patch on a jacket sleeve?
It is the same process as sewing it onto any other part of . Start by choosing the right size and style and marking the exact spot to place it.
Then, use a basic running stitch or a more decorative stitch. Knot the thread and trim any excess when you're finished. Finally, press it with iron and add a layer of fabric sealant to make it weather-resistant.
How do you sew a patch on a jacket by hand?
You can do this by hand using a basic running stitch or more decorative stitching. Just make sure to thread the needle and knot the end of the thread.
Do tailors sew on patches?
Yes, tailors can do this. However, it may cost extra depending on the complexity of the design. If you'd like to save money, do it yourself.
How to put a patch on a jacket without sewing?
Yes, You can use fabric glue or iron on patches to leather. Make sure to use one designed explicitly for iron-on or glue. Follow the instructions on the package and work slowly to avoid any mistakes. Alternatively, you can also find pre-made designs that have an adhesive backing. Just peel off the backing and stick it onto the cloth.
Conclusion
Whether you've chosen a large, bold, or small, subtle one, learning how to sew a patch on a jacket is a great way to add a unique style to your wardrobe. You can easily create a one-of-a-kind fashion masterpiece with suitable materials and tools, plus a little creativity. So now go ahead and give it a try! You'll be sure to love the results.
Happy crafting! 🙂