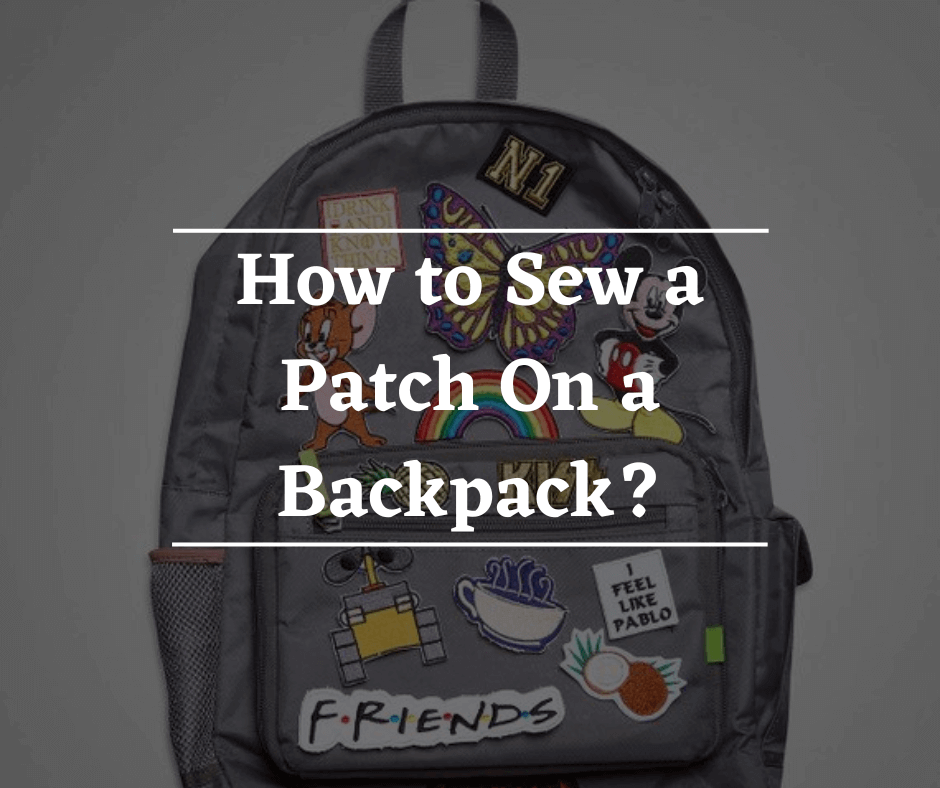 Do you have a beloved backpack that's seen better days? Or is your favorite top missing a little something special? Adding patches to your clothing, bags, and other fabrics adds personalization and gives a unique flair.
Sewing patches onto any material can seem daunting if you've never done it before. Still, anyone can sew on the perfect patch with the right supplies and technique! This blog post will discuss how to sew a patch on a backpack so you can customize anything in style.
Materials & Tools You'll Need
This list includes everything you'll have to sew a patch on your backpack:
Thread needle
Closure pins
Scissors
Iron
Thimble
Steam ironing cloth
How to Sew a Patch On a Backpack
Simply select the patch design ideas for backpacks and figure out patch placement on backpacks
If required, adjust the size and form of the patch by cutting it.
Collect the remaining components for patch maintenance for backpacks
Attaching the Patch
Method 1: Using Needle And Thread
1. Place the patch on the backpack where you want it to be placed.
2. Pin the patch's edges firmly in place with the closure pins.
3. Thread a needle and knot it firmly at the end.
4. Start sewing from one side of the patch, using tiny, secure stitches.
5. Keep sewing the edges of the patch until you have entirely sewn it on the bag from center to outwards.
6. Knot the end of your thread securely and cut off any excess thread with scissors.
Method 2: Using Fabric Glue
1. Put some fabric adhesive on the back of the patch and press it in place.
2. Leave it for 10 minutes to let the glue dry and set.
3. Press the patch with an iron, using steam if possible.
4. Leave the patch to cool and set it before using the bag again.
And that's it! You have successfully sewed a patch on your backpack. Now all you need to do is show off your new creation and be proud of it!
Order Premium Quality Custom Backpack Patches From Us
At Us, we offer high-quality custom backpack patches and other materials. Our experienced designers will work with you to create the perfect custom patch for your needs. We guarantee the fastest turnaround times in the industry. The free shipping and no setup fees also make getting the ideal patches for your backpack easy and affordable.
Our strict quality control and premium materials ensure that your patches will last for years. No need to take the burden yourself with DIY backpack patches; just get your patches made by us and enjoy the results! So, order now and show off your creativity with our custom embroidered patches!
Frequently Asked Questions
What are the best materials to sew a patch onto a backpack?
The best material for sewing a patch onto a backpack is canvas, cotton, or thick and sturdy fabric. Canvas is the most durable and won't fray as quickly as other fabrics.
Can I sew a patch onto a backpack by machine, or do I have to do it by hand?
You can sew personalized backpack patches by machine or hand. However, with the right tools and supplies, it's much easier to do it by machine. Just make sure to follow the instructions carefully and use the right stitch settings for your fabric.
How do you attach patches to backpacks?
Velcro backpack patches can be attached using either fabric glue or needle and thread. The most secure way is to sew them on with a needle and thread, but fabric glue will also work if you don't have the time or patience. Make sure to use an iron and steam if you're using glue.
Can you sew patches on a nylon backpack?
Yes, you can sew patches on a nylon backpack. Just make sure to use the correct type of thread and needle for this fabric, as it is more delicate and prone to fraying. Additionally, you may need to use a thimble if the material is too thick for your needle to go through it.
How to put an iron-on patch on a backpack?
Iron-on patches on backpack are very easy to apply. All you have to do is place the patch on the bag where you want it, cover it with a cloth such as a handkerchief, and press an iron on top for about 15-20 seconds.
Make sure to use medium heat and no steam, or the iron on backpack patches won't stick. You can also use a heat press if you have one available. After that, just leave the patch to cool down, and it will be securely attached to your bag!
Can you glue patches on backpack?
Absolutely yes! Fabric glue is a great way to attach patches to backpacks without sewing them on—no hassle of thread and needles. Just apply the glue to the back of the patch and press it firmly into place.
Conclusion
Adding a patch to your backpack is an easy and fun way to customize it and show off your style. You can choose from a variety of materials, such as fabric glue or needle and thread, to attach it securely. With the right materials and a little bit of patience, you can make your backpack look unique and stylish in no time! So don't wait any longer.