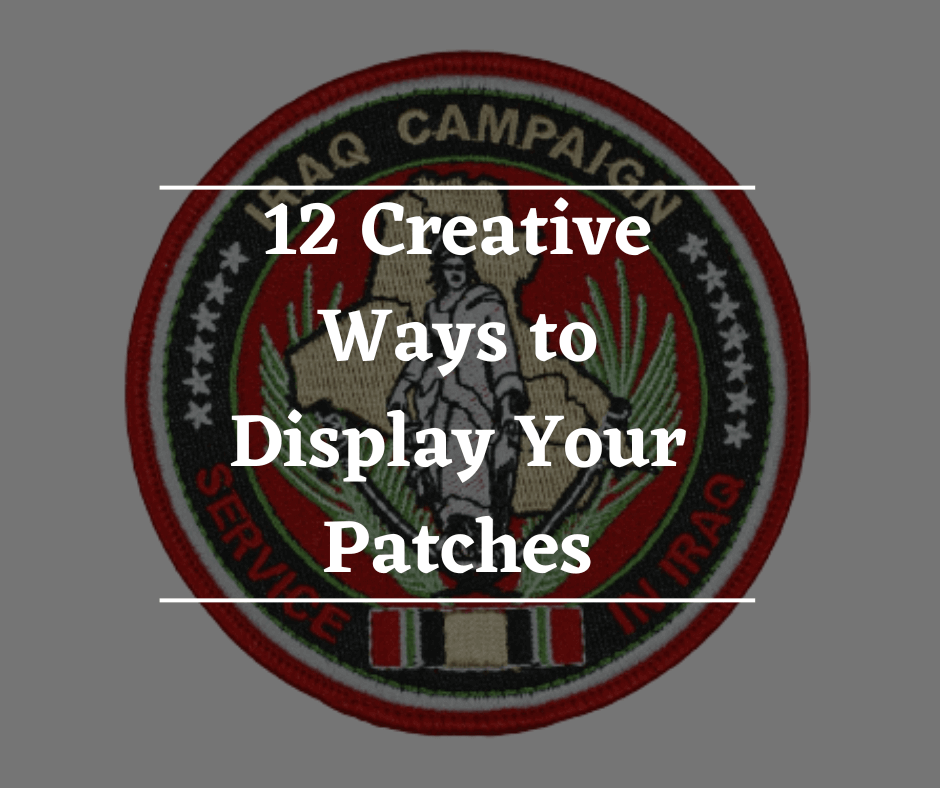 Are you looking to add a personal touch while also expressing your style? The patches are the perfect accessory for adding flair and personality to any wardrobe! Patches can be used in a variety of fun and creative ways, from brightening up your jeans with colorful designs to creating an eclectic patchwork jacket.
Plus, there's no end to the number of cool ideas you can come up with using patches! In this blog post, we'll provide 12 unique displays that will make all heads turn when they see your stylish patch collection. So if you're ready to take your patch game up a notch, let's get started on how to display patches!
12 Eye-Catching Ways to Display Your Patches
1. Frame them and hang them on a wall
This is the classic way to display patches. Simply frame your favorite ones and hang them on the wall like a work of art. You can use one large frame or multiple smaller frames to create a patchwork-style wall gallery. If you want to group them in a single frame or frame them individually, the choice is yours!
2. Police patch display
Are you a fan of law enforcement? Then why not show off your pride with a patch display case? You can hang police patches or any other type of patch in a special frame or case. Displaying your symbols on the wall will be sure to draw attention, plus it's also a great way to show support for law enforcement.
3. Sew them onto a denim or leather jacket
This is the way to go if you want to add personal flair to outerwear. Simply sew your favorite signs onto a denim or leather jacket , and you'll have an eye-catching piece that will turn heads. Iron On Patches to Leather for an added touch of uniqueness and style.
Here are some ideas for selecting that reflect your interests or style:
Choose related to your favorite band, sports team, or hobby
Decorate your jacket with cartoon characters or pop culture icons
Create a patchwork quilt with colorful shapes and designs
4. Create a collage or mosaic using multiple patches
It is a more creative way to display patches. You can combine them differently to create a unique collage or mosaics. This is a great way to show off your creativity and make a bold statement. You can also connect them with telling a story or showcasing interests by creating a patchwork of color and texture.
5. Customize a backpack or tote bag
Add personality to travel or carry-all bags with them by customizing them with your choice. This is a great way to personalize bags and make them stand out from the crowd. Plus, adding them to backpacks and totes makes them look cool and stylish. Ideas for sewing them onto a bag in a pattern or randomly include:
Music-themed patches
Nature-inspired such as flowers, butterflies, or animals
Celestial patch designs featuring stars, moons, or planets
Sports-related, such as a favorite team's logo, scout patches
6. Iron them onto a t-shirt or hoodie
It is an easy and affordable way to add personality to clothing. Sew or iron on badges to a t-shirt or hoodie; voila, you have an instant style statement. Ideas for creating a unique look include adding them to the sleeves, back, or chest of a t-shirt. Or, if you want to go for a more subtle approach, you can add them to the pockets or bottom hem of a hoodie. For ironing them onto fabric using a hot iron and pressing cloth, you will also need the following:
Iron-on adhesive
Scissors or rotary blade for cutting
7. Decorate a hat or baseball cap
Customizing headwear is a great way to show off your style. Using glue or tape, you can attach them to a hat's front, side, or back. Plus, you can also add them to the brim of a hat for an extra dose of personality. Ironing or sewing patches onto hats are also an option. Both methods will ensure a secure fit and look great.
8. Patch Display board or Show them on a shelf
Organizing and displaying an extensive patch collection can be a challenge. A patch board is a perfect solution for collectors who want to showcase multiple emblems in one place. If you wish to create a patch board or display them on a shelf, you will need:
A board or shelf
Pins, tacks, or tape for attaching
Glue (optional)
Creating a patch board or shelf display is easy and can be done in just a few simple steps. Once your board or shelf is prepared, you can arrange them in any way you like. This will create a unique and personalized display of your patch collection.
9. Pillow or throw blanket
You can add character to home decor by creating a one-of-a-kind pillow or throw blanket. Simply sew them onto the fabric of your choice, and you'll have a unique piece that's sure to be a conversation starter.
10. Patch display Case Or Shadowbox
A shadow box or display case is the perfect solution if you want to protect and preserve a special patch. This is an ideal way to showcase single or multiple patches in one place. Plus, it's a great way to protect your collection from dust and dirt.
If you are looking for a more ambitious way to showcase a patch collection, why not create a banner or tapestry using multiple emblems? This is an easy and fun way to display your creativity. You can combine all of them to create a unique piece that stands out. All you need is fabric, thread, and your choice of product.
12. Patch Display Book
Another great way to display your patch collection is by creating a patch book. This can be done using a notebook, scrapbook, or photo album. Choose a book with pages with plastic sleeves or pockets so you can easily slip them in without gluing them down. You can also use a binder if you prefer.
Stand Out With Our High-Quality Custom Patches
We offer various custom patches that are perfect for any occasion. We specialize in creating custom patches for the military, businesses, and hobbyists. All our products are made from durable materials designed to with stand the elements. So, no matter what you're looking for, we have a patch that will fit your needs. So, get in touch with Today Patches, and let us help you create something special!
Frequently Asked Questions
What to do with embroidered patches?
Embroidered ones can be used for a variety of things, including decorating clothing, adding accessories to bags and hats, adding a unique touch to accessories like wallets and purses, creating wall art or tapestries, and more.
How to display military patches?
Military badges can be displayed in several ways, such as creating a patch wall display with your favorites pinned or glued to a board, attaching military patches to a frame and hanging it on the wall, framing them in a shadow box with other memorabilia or mementos that have special meaning to you, or even on a lapel pin to wear proudly.
How to display hog patches?
The best way to display hog patches is to create a patchwork quilt. It's easy and fun; you can make it as big or as small as you want. Then, lay out your patches in whatever configuration you desire and stitch them together with a sewing machine.
How to display national park patches?
National park patches are perfect for adding a touch of nature and adventure to your wardrobe! Try making a patch collage by attaching them to a lightweight denim jacket. For a more subtle look, you could also frame them in a shadow box and hang them on your wall. This is especially great for showcasing vintage park ones!
How to display travel patches?
Travel patch ideas are great for adding a touch of wanderlust to your wardrobe. Try creating a patchwork map by sewing them onto the fabric, then pinning the material to a corkboard.
How to display police patches?
When displaying police patches, it is essential to be respectful and mindful of the patch's meaning. Consider framing them or using a shadow box to create an elegant display. For a more casual look, you can also use pins or magnets to attach your badges to clothing, bags, and other materials. You can also sew them onto fabric or hats for a unique and creative look.
Conclusion
There are many creative and fun ways to display patches. Whether you're looking for a subtle way to show off your collection or an ambitious way to showcase your patches, there's an option for everyone. From patchwork quilts and collages to shadow boxes and banners, you can find a way to show off your patch collection in style. So get creative and have fun with it!