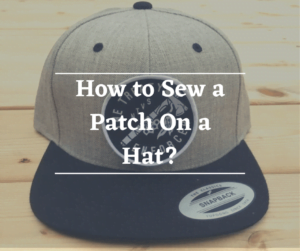 Sewing patches is an excellent way to give new life to old hats or create something unique. Whether skilled with the needle and thread or just starting, crafting and sewing onto your favorite headgear can be fun and rewarding.
With some basic materials, supplies, and practice, you'll soon be making fabulous-looking items for yourself or others! Read on to learn how to sew a patch onto a hat like an expert in five easy-to-follow steps!
Step by Step Guide How to Sew a Patch On a Hat?
I. Materials & Necessary Tools Needed
Before you begin, make sure to have the following tools and materials on hand for Sewing patches on hats:
Hat with a fabric brim or panel (a canvas hat works best)
Patch – felt, iron-on or fabric
Thread to match the color
Needle
Scissors
Thimble (optional)
II. Prepare the Patch
Cutting the patch to the desired size and shape
Measure the area you will place your piece on and trim the shape of your fabric to match. Then, use felt or iron-on pieces and scissors cut out the desired shape. If you are sewing a patch made of fabric, make sure to use pins and tailor's chalk to mark the desired shape before cutting.
Marking the placement with a fabric pen or chalk
Hold it in place with your hand and lightly trace a line around it with a fabric pen or piece of tailor's chalk. This will help you to keep it in place when you begin sewing. The chalk will also help to prevent the thread from slipping off. You can also use pins to hold it if needed.
Using a pin to temporarily it while sewing
When it is ready to be sewn in place, use a pin or two to hold it down. Be sure to insert the pins in a way that won't cause snags or tears in the fabric.
III. Sewing the Patch onto the Hat
Step 1: Threading the needle
Thread the needle with a piece of thread that matches the color.
Step 2: Knotting the thread
Once the needle is threaded, knot the end of the thread on the underside. This will help to keep your thread from slipping off as you work.
Step 3: Securing with a series of small, evenly spaced stitches
Starting at the center of the patch, begin to stitch around it in a circular pattern. Make sure to make small and even stitches that are no bigger than 1/4 of an inch. This will help to create a secure, professional-looking when completed.
Tips For Making The Stitches As Invisible As Possible
-Using a color of thread that matches the fabric as closely as possible.
-Stitching on the underside and moving in a circular, outward pattern.
-Taking small stitches and making sure the tension is even.
-Knotting at the beginning and end of each stitch to prevent the thread from slipping off.
IV. Finishing Touches
Here are some optional steps to give your piece a professional and finished look:
Adding an extra stitch or two in the corners to reinforce the edges.
Adding a second layer of thread for added strength
Using fabric glue to secure it
Importance of Knotting and Trimming the Thread when Finished Sewing
If you want it to last, it's essential to make sure that you knot the thread at the end of each stitch and trim away any excess thread before you're finished. This will help ensure that your patch remains securely in place for years. The result is a professional and secure-looking piece that will last you a long time!
We Make Custom Patches For You
Experimenting is never a bad option, but if you're looking for a more professional, finished look, why not let Today Patches sew for you? We offer custom patches, embroidery, and iron-on patches in all shapes and sizes. Our high-quality patches and sewing materials will ensure your item looks great for years to come.
We have a wide selection of patches in various sizes and shapes to fit any headgear, jacket, or garment. The customer support team is also available 24/7 to answer any questions. We also offer free shipping. So what are you waiting for? Let us take the hassle of adding patches to hats. You can get a free quote from here.
Frequently Asked Questions
What size patch for a hat?
Typically, when sewing it, you want to use one between three and five inches in size. That said, the size is up to you and can be tailored to suit your style.
How to sew a patch on a knit hat?
When sewing it onto a knit headwear or any other fabric that is not canvas, it is best to use an iron-on piece. Iron-on ones are incredibly easy to apply and require no sewing. All you need is an iron and a few minutes to heat the adhesive backing. Then, once the adhesive has melted, simply press it onto your item and let it cool.
How to sew a leather patch on a hat?
Sewing a leather one is similar to sewing one made of fabric. The main difference is that you will need to use a leather needle and more durable thread to ensure it will stay in place. Additionally, you can use leather glue on the back of it to reinforce the stitch and make sure it does not move.
How to sew a patch on a hat by hand?
When hand-sewing, you want to ensure that the needle always faces up towards the top of it. Start from the inside of the cap and work your way around. Using a thicker fabric for your one, use a thimble to help you push the needle through the fabric. Make sure to tie off your thread when finished and hide it inside the cap for a clean finish.
How to sew a patch on a baseball hat?
You can use the same method to sew one onto a baseball hat that you would with any other type of headgear.
The main difference is that it needs to be placed in the front of it- it is not recommended to sew your custom patch onto the baseball cap bill. Additionally, if you use an iron-on one, use a low heat setting and press for 30 seconds or less.
How do I choose the right size and shape of patch for my hat?
When selecting, you want to make sure it is an appropriate size and shape. A good rule of thumb is to look for one between three and five inches in size, as this will balance nicely with the size.
Additionally, you want to ensure the shape of the patch complements the shape and design. For example, if your headwear is round, you may want to look for a round or oval-shaped.
Conclusion
How to sew a patch on a hat is easy and fun. You can turn any old hat into a great-looking addition to your wardrobe with suitable materials and steps. Make sure to take your time and use the right materials and stitches to ensure that your patch stays in place for a long time.