Do you want to take your business to the next level? Then, embroidery products like patches are your key to success.
But what if you want to do personal branding with embroidery? In that case, choosing the right embroidery product will boost your brand.
So, come along as I discuss the best embroidery products for your business while helping you understand how to select a suitable material. Let's get started.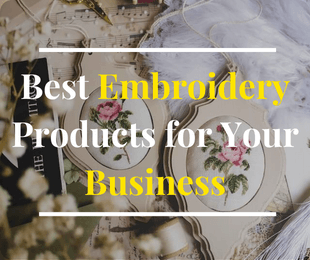 Understanding Your Business Needs
The first step toward personal branding is ensuring your embroidery patches align with your brand's goals. First, identify your audience and market and understand to whom you want to engage and sell your product. Ask yourself if it is for promotion or uniformity. Then, define your budget and allocate resources effectively.
Types of Embroidery Products
Multiple embroidery products extend across various categories. There are hundreds of choices, from apparel and promotional items to elevating home decor. So, let's explore these categories in detail and see which fits best to your business.
Apparel
In apparel, corporate uniforms elevate team unity white, showcasing brand identity. You can also design promotional clothing that turns employees into walking billboards with embroidered patches. Lastly, go for embroidered accessories. From caps to bags that carry your brand, a hint of embroidery elevates your brand.
Marketing and Promotional Items
Regarding marketing, embroidery patches are your way to go. They enhance customer loyalty and transform mundane merchandise into brand ambassadors with intricate embroidery that tells your story.
Home and Decor
Last but not least, you can do embroidery on linens or pillows and wall art. It can turn your ordinary corners into design statements.
Picking the Right Material
When you're done deciding about the type of embroidery product you're going with, it's time to decide on the perfect base material. Let's delve into the key considerations when selecting the perfect canvas.
Fabrics:
Embroidery on fabrics is a timeless tradition, with various options in your hand. For instance, cotton, known for its comfort, offers an ideal surface for intricate designs. On the other hand, polyester boasts durability and resilience, making it perfect for sportswear and uniforms.
Non-Fabrics:
Items such as leather take on a new dimension with embroidery embellishments, adding elegance and a touch of luxury. You can also go for vinyl surfaces as they become vibrant canvases through embroidery.
Design Considerations
In the competitive field of embroidery, the significance of design considerations cannot be overstated. Therefore, the size and placement of your embroidery patch are critical, ensuring the design aligns with your item's contour. Additionally, the choice of embroidery techniques, be it dimensionality, 3D puff, or sleek elegance of satin stitch, can take your business to the next level.
Quality and Durability
When choosing the fabric, you need to select the top-notch quality. In embroidery products, thread quality forms the backbone, determining visual appeal and resilience. Therefore, making an informed choice of threads ensures that vibrant colors withstand wear and tear, increasing your product's durability.
Finding a Reliable Embroidery Partner
Searching for a trustworthy embroidery partner is difficult. But you can do so with thorough research or by exploring your partner's expertise and offerings. Moreover, reading reviews and testimonials serves as a window into the experiences of others, shedding light on your partner's track record.
If you still need confirmation, requesting samples and portfolios will also serve as a litmus test for compatibility. Their showcased work will provide an insight into their style, helping you assess whether it aligns with your visions.
Customization and Personalization
Embroidery patches mark an impression of your brand, where customizations serve as a narrative. Whether you're doing corporate logos or intricate designs, ensure each stitch speaks your story. Personalization adds depth, integrating names, numbers, and unique details that forge your connections.
Ordering Process and Timeline
Getting your embroidered items is a simple journey with clear steps. However, you need to ensure that several processes are involved in getting your order, beginning with the original request for a quote.
The distributor offers artwork for the design they want embroidered at this step, along with pertinent information regarding the item to be embroidered. These specifics include the placement of the embroidery on the item, the amount of the order, and any issues or particular needs that must be resolved for the order to be executed accurately and promptly.
One thing you must remember when placing an order is clear communication. From design to your desired material, clear instructions pave the way for a seamless creation process. With this, the estimated time it takes for your embroidered pieces to come to life depends on your needs.
Conclusion
To put it short, incorporating embroidery products can significantly boost your business. Each stitch communicates a story, from customized branding to various product categories. Therefore, find a trustworthy collaborator and prioritize high-quality threads when selecting materials. So, let your designs speak for themselves, and remember that efficient communication speeds up the process.