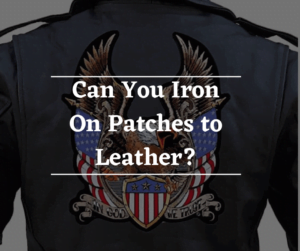 Nothing says style and individuality like customizing your leather jacket with an iron-on patch. You know the ones — they come in all shapes and sizes, with anything from a classic band logo to a witty phrase or your favorite movie quote. But can you actually put patches on a jacket using heat transfer? The answer may surprise you!
In this post, we'll take a look at some of the available methods for attaching patches to apparel so that you can get creative and show off your unique style. Find out if can you iron patches on leather and what options are best for achieving the coolest looks with any type of patch imaginable!
Gathering Necessary Materials
Iron
Ironing board or some other flat surface
Leather fabric
Iron-on patch
Applying Iron-On Patches To Leather
1. Prepping the Fabric for the Patch
Start by cleaning the area on the fabric you wish to apply it. If possible, use a damp cloth and mild soap, such as dish detergent, to remove any dirt or debris on the surface. It is also necessary to dry it entirely before applying it.
Next, determine the placement of the patch. Finally, take into consideration the size and where it will best fit on your fabric.
2. Applying the Patch
Activate the adhesive with heat and pressure. Place the iron-on patch in the designated area of your fabric. Cover it with a thin cloth and press the hot iron firmly.
Hold the iron firmly in place for 30 seconds to a minute until you hear the adhesive begin to activate. Once finished, carefully remove the iron and test the bond. Repeat the process if it does not feel securely applied until it firmly adheres.
Factors To Consider When Ironing On Patches To Leather
1. Type of Leather
Some leathers may be more delicate or difficult to work with than others. If you are unsure about the fabric type of your garments, consult a professional or purchase a patch specifically designed for use on other leather items.
2. Type of Iron-on Patch
Not all iron-on ones are created equal. Read the manufacturer's instructions to purchase an emblem suitable for application on fabric. For example, some pieces may be more suitable for it than others, such as ones with an adhesive back.
3. Thickness of the Patch
Patches with a thicker layer of backing material may require more time and heat to adhere properly. In addition, thicker ones have a greater chance of warping or buckling the fabric. If unsure about the thickness, it is best to consult a professional.
4. Age and Condition of the Leather
The age and condition of your fabric may also influence how well an iron-on patch will adhere. Older or more fragile materials may be more challenging to work with, so it is best to take extra care in applying. If possible, test a small area first to see how it reacts.
Tips For Successfully Ironing On Patches To Leather
1. Use a Protective Layer
When applying an iron-on patch to this material, use a thin cloth or protective layer (such as a pressing cloth) between it and the fabric. This will prevent it from sticking to the material and ensure a smooth application. Also, use a pressing cloth to prevent it from sticking to the iron.
2. Test the Patch
Test on a scrap piece of leather before applying it to the final surface. It's an excellent way to make sure it will adhere correctly and that you don't ruin the fabric. If possible, try to find a piece specifically designed for the fabrics. You may also want to test multiple emblems and different types of leather fabrics before selecting the one you will use.
3. Use a Low Heat Setting
Use a low heat setting and apply pressure evenly to the patch to ensure proper adhesion. Heat and pressure must be applied properly to ensure the patch adheres correctly. It may become damaged or discolored if you use too much heat.
4. Allow Time for Cooling
Allow it to cool before removing the iron or pressing cloth. This will help ensure that it is securely bonded. If you need to move or reposition it, wait until it has cooled completely.
Ready to Order Custom Patches? Request a Free Quote from Today Patches Now
At Us, we specialize in providing high-quality custom patches for any occasion. Our team of experienced designers can work with you to create the perfect patch for your fabric. We offer a variety of styles, colors, and sizes to choose from, ensuring you get exactly what you need. Contact us today for a free quote on your next custom order!
Frequently Asked Questions
Can you iron on patches to fake leather?
Yes. However, it is vital to use a low-temperature setting and be sure not to leave the iron in one spot too long. A press cloth or towel can protect the fabric and help ensure a successful application. Additionally, if you use one with multiple layers, you may need to use additional adhesive to ensure it stays in place.
Do iron-on patches stick to leather?
You will need heat transfer adhesive for it to adhere securely and last. Iron-on ones do generally not adhere appropriately without the help of a specialized glue.
Where to get patches sewn on leather vest?
The best way to get them sewn on a vest is to take it to a professional tailor or seamstress. They will be able to measure correctly, place it in the right spot, and sew it with a tight stitches that will last.
Can you glue patches to leather?
You can use fabric glue or a specialized adhesive to attach them to it. Make sure you use an adhesive designed specifically for use on the material and follow the manufacturer's instructions for proper application. This method is best for the ones not made of a heat-sensitive material like felt or vinyl.
How to patch a hole in a leather couch?
In order to do, you will need to purchase a repair kit. This kit should include everything you need, including a piece, adhesive, and a tool for smoothing the particular area:
Clean the area around the hole with a damp cloth to remove debris.
Cut it to match the size of the hole and apply it with the adhesive.
Use a tool from the kit to smooth it and make it blend in with the rest of the couch.
Allow the area to dry completely before using your couch again.
Conclusion
Ironing on patches to leather can be tricky, but with the proper knowledge and preparation, it is possible to achieve successful results. Be sure to consider all these factors and consult with a professional if necessary. So, do not be afraid to give it a try and create unique pieces of clothing with patches to add a touch of personalization. Good luck!