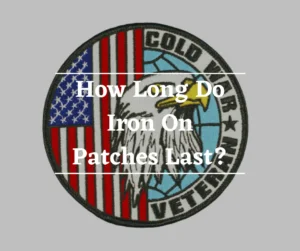 Are you looking for a simple, cost-effective way to add character and personality to your clothing? You may want to consider investing in iron on patches! Iron-on patches are an easy, DIY way to personalize clothing and accessories without knowing how to sew.
Not only are these decorative patches versatile regarding the different items of clothing they can be applied onto, but they're also incredibly durable. However, people often ask how long do iron on patches last. Let's find out the lifespan of iron patches and how to increase them.
How Long Do Iron-On Patches Typically Last?
Iron-on patches often last between two and three years with adequate maintenance.
Heat-transfer vinyl repairs should last between one and two years with proper maintenance.
The lifespan of iron-on adhesive backing patches is six to twelve months with regular maintenance.
Tips For Prolonging The Lifespan Of Iron-On Patches
Take care to only use top-notch materials.
Before putting in a patch, read and understand the recommended guidelines.
Keep the patched clothing from being washed or dried too often.
Protect the patch from burning by using a pressing cloth while ironing.
Factors That Affect The Lifespan Of Iron-On Patches
1. Quality Of The Patch Materials
The type of materials used to make the patch will considerably affect how long it lasts. Cheaper patches may not be as durable and begin to fade or peel over time. Therefore, it is essential to invest in high-quality if you want them to last longer.
If you are unsure of the quality, always look for patches that have good reviews or have been recommended by others. The quality of the patch materials will also depend on how often you use them and what type of fabric it is applied to.
2. The Fabric The Patch Is Applied To
The fabric that the patch is applied to will also have a direct impact on its longevity. Some materials, such as cotton or wool, are more durable and can handle a lot of wear and tear.
Other fabrics, such as silk or polyester, will not be able to take the same amount of abuse and may not hold up as well over time. Therefore, it is essential to consider the fabric of your clothing when choosing a patch, as some may not be appropriate for certain materials.
3. The Heat And Pressure Used When Applying The Patch
When applying the patch with an iron or a heat press, it is crucial to ensure that you use the correct temperature and pressure. Too much heat or pressure can cause the adhesive to break down over time, leading to a patch that does not last as long.
The heat and pressure settings will vary depending on the type of patch you are using, so make sure you read the instructions carefully before applying the patch. It is advised to use a heat press over iron as it provides more even and consistent results.
4. The Care And Maintenance Of The Patch After the Application
After applying the patch to your clothing, it is essential to take proper care of it to ensure its longevity. Ensure you follow the recommended instructions for laundering and wearing carefully.
Avoid rough washing machines or drying cycles, as these can damage the patch over time. Additionally, if you are using a patch outdoors, check it often for signs of fading or peeling. Proper care and maintenance of the patch will ensure that it lasts for as long as possible.
Types Of Iron-On Patches
1. Heat Transfer Vinyl (HTV) Patches
These are made of vinyl material applied to the clothing with heat. The adhesive that bonds the patch to the fabric is activated when you press a hot iron or heat press onto the patch. These patches are known for their durability, as they typically last through many washings and wearing's. Vinyl patches are often used to decorate or customize denim jackets, hats, and bags.
2. Regular Iron-On Patches
These patches are made of embroidered fabric or printed material. To apply them to the clothing, you will need an iron and some heat-resistant liner or fabric to protect the patch from burning.
These are known for their bright colors, making them popular for adding personality to everyday items. In addition, regular iron-on patches are typically more durable than HTV and can often last for years with proper care.
3. Iron-On Adhesive Backing Patches
Iron-on adhesive backing patches are pre-coated with special heat-activated glue. This type is popular as it requires no additional supplies to attach to your clothing.
To apply these, simply place the patch onto the desired fabric and press with an iron or heat press until it is securely attached. These are known for their convenience and durability, as they generally last longer than other types of iron-on patches. The benefit of using these is that they are usually effortless to remove if you ever need to.
Frequently Asked Questions
Can iron-on patches be washed in a washing machine?
Yes, some iron-on patches can be washed in a washing machine. However, it is essential to read the instructions that come with the patch to ensure it is safe. If the patch is not safe for machine washing, be sure to hand wash it instead. Additionally, it is best to use a gentle cycle and mild detergent when washing clothing with patches.
What is the difference between iron on and sew on patch?
The main difference between an iron on patch and a sew-on patch is that applying method. An iron-on patch can be applied with a hot iron or heat press, while a sew-on patch requires stitching to attach to the fabric.
As a result, iron-on ones are generally easier to apply and require less time, but sew-on ones are more durable and last longer. Additionally, sew-on patches provide a more customized look, while iron-on patches are more suitable for everyday use.
Can iron-on patches be bleached or treated with stain removers?
No, it is not recommended to bleach or treat iron-on patches with stain removers. This can cause damage to the adhesive backing and may cause the patch to come off. If you wish to clean a patch, it is best to hand wash it in cold water with a mild detergent. Additionally, it is important to note that some may not be colorfast and could bleed or fade when exposed to water or harsh chemicals.
Are iron on patches permanent?
No, iron-on patches are not typically permanent. The adhesive backing attached to the patch can break down over time or be damaged by exposure to heat or other elements.
Can patches be washed by hand?
Yes, they can be washed by hand in cold water with a detergent. However, be sure to read the instructions that come with the patch before washing it to make sure it is safe to do so.
Conclusion
Iron-on patches are an easy and affordable way to customize your clothing. With proper care and maintenance, patches can last for several years. However, how long do iron on patches last depends on different factors. So, it's important to take proper care of your them to prolong their lifespan.