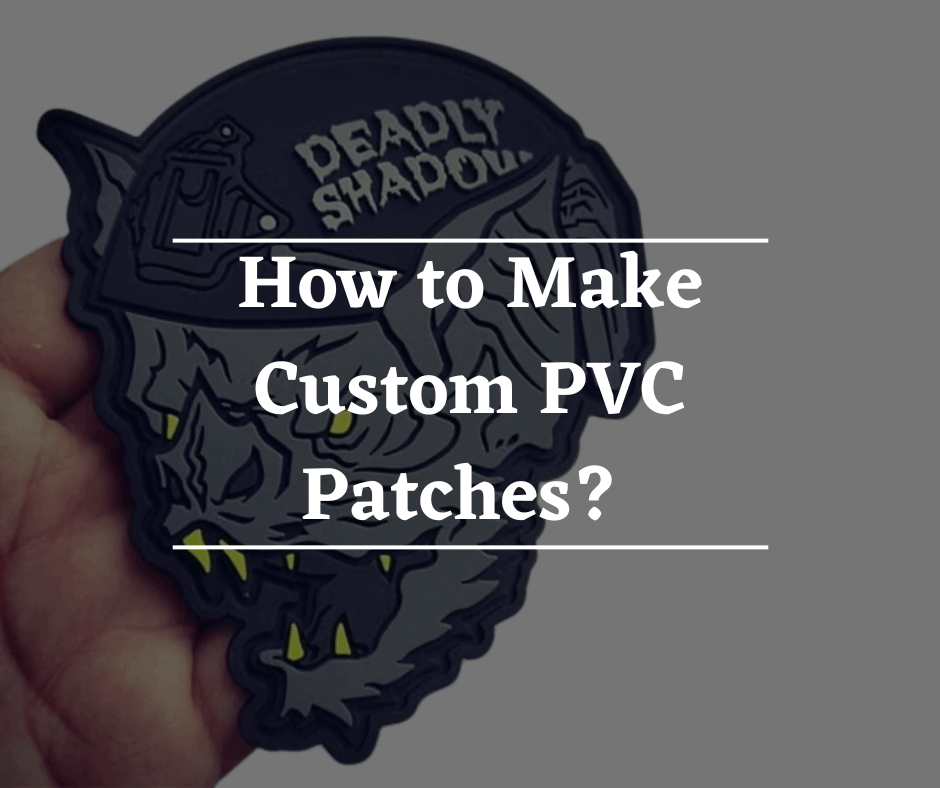 Vibrant colors, beautiful design, and unmatched appeal fixated on a certain position. No, we are not talking about rainbows but PVC patches!
Yes! Made out of different material types and creatively designed as per your requirements. These patches serve a purpose. It can either be representing a brand, event, or organization or simply glorifying your favorite video games or animated characters. These PVC patches have an unmatched demand around the world.
Want to make your own PVC patches at home? Here's a step-by-step guide.
What is a PVC Patch?
PVC also coined by the name Polyvinyl Chloride is a material that gives a rubbery-like sensation when held in the hand.
It is a tough, durable, and flexible material that can be molded into any desired shape and size as per requirement. It has various uses but the most infamous implications.
What makes PVC Patches special?
PVC is a material that is highly versatile in nature. It has various characteristics that other similar plastics or rubbers do not have.
For one, PVC is a highly durable material and does not weather or break like other low-grade plastics. And the increased levels of chlorine in it make it resistant to fire. Thus, allowing people to prefer PVC material above all other materials.
Most people prefer PVC patches over other cloth-based or plastic-based patches due to their long lifespan.
It is safe to say that it is also the most suitable material if you want it on your rain gear. Waterproofing is an unmatched specialty of PVC patches and you may have seen many divers, firemen, fishermen, and other people having such patches on their clothing.
How to make PVC patches?
Making PVC patches is not something that can be compared to rocket science. But it is a little bit time taking as it requires designing and creative work.
The equipment used to produce a PVC patch is very pricy and cannot be set up at home. So outsourcing the whole process is a smart move to get things done.
If you are looking for an easy alternative then ordering it from a professional manufacturer can be a very easy way to get one. You simply need to go to a website and design your logo or patch.
Finalize it and then go through the payment process. The custom patch-making firm will confirm your design and show you a mock sample before going through with your final product.
Important Note: If you are selecting a round logo or design then choosing a size of 2" is ideal. The patch sizes can be 3" and above, depending on your item. But the ideal sizes are somewhere between 3" to 5".
How to make PVC patches at home?
If you plan to make PVC patches at home then that is a totally different scenario. The most difficult part of the whole process is designing and perfecting the mold. A mold is a metallic bar with your desired design engraved into it.
Here is a step-by-step guide on how you can make it at home:
First and foremost, you need a mold made. And the only way to do this is to order it from a custom PVC patch-making company. Once you have designed the mold, they can manufacture it and ship it to your home.
In the meantime the mold is arriving, better look out for PVC material that will be the raw material for the mold. Better select the bright colors as they stand out the most.
Once you have selected the colors and your mold has arrived. Now is the time that your inner artist comes out to do the magic.
Keep in mind that the design on the mold is according to the different colors you want to be set into the patch.
Prepare your PVC raw material to be poured into the mold. Note: We recommend using syringes for more precision work.
Once the first layers of colors are set into the mold then the next process is called baking. Like yeah, literally baking like making a cake!
You need to bake the mold so that the first layer is set firmly and dried before the next layer can be set into it.
Repeating the process till you have the desired amount of layers and then a backing needs to be applied. The backing is the layer that holds firm the whole PVC design and it also helps as a base to be attached to your item.
Once the backing is attached. You are all done and set to attach the PVC patch to your item easily.
How to attach a PVC patch to your item?
Most of you might consider sewing a PVC patch to your item. But there are other ways to attach the patch.
Some of the ways are as follows:
Using Velcro at the backing of the patch.
Using adhesive to attach the patch (this is the best approach if do not want a permanent patch on the item).
Some people like using fabric fusion glue for it. After putting on some glue on the patch, put it on your item, and then put a heavy object to apply pressure so that the patch can stick firmly.
Another innovative way for a patch to be paced is by ironing it to the fabric.
Frequently Asked Questions
How much are custom PVC patches?
Custom PVC patches can be categorized into the types: 2D patches and 3D patches. And their prices vary depending on the sizes. A 2D patch may range somewhere from $1.5-$4.0 while a 3D patch may have a starting price of $3.0-$7.0.
How is PVC hat patches made?
The easiest way to attach it is to use fabric glue to attach the patch to your hat. But other methods are sewing it or attaching a Velcro for easy attachment.
Are PVC patches flexible?
Yes, PVC patches are very durable and flexible. They do not crack or tear when bend or folded.
Can a 3D Printer be used to produce PVC patches?
Yes, it is possible. In fact, it is much easier to print it using a 3D printer. There are three materials that are widely used in a 3D printer namely TPU, TPE, and PLA. The best material is soft PLA as it replicates a similar texture to a PVC patch made traditionally.
Can a PVC patch be attached with sewing it?
Yes, a PVC patch can be attached by sewing it. Though, keep in mind to sew it in one direction rather than random stitches. Also, some patches already come with a sewing guideline printed on it.
Conclusion:
Making patches at home is not very hard and anyone can do it. Even you! Still if you are having problems then you may check out "Today Patches" for guidance and a price quote for ordering. We will help you to our level best to make the most appealing product.